This romantic, idyllic campsite is in one of the most beautiful campings of the southern valleys of Switzerland at the foot of the Umbrail Pass, on the edge of a larch wood at 4750'. Staying in the lovely quiet surroundings of this campsite in the unique landscape of the Val Müstair – National Park UNESCO Bio-sphere, you'll be able to enjoy its personal atmosphere and the wonderful facilities it has to offer, such as toilet and washroom facilities, easy entry for camper vans and caravans as well as its situation in a unique hiking area in unspoilt nature, a paradise for mountainbiking.
In addition it's near the UNESCO World Heritage Site of the St. John Monastery in Müstair as well as other interesting museums. What's more, Val Müstair's culinary specialities are not to be missed!
Arrival by car:
No mather wheter you are comming from the Pass Fuorn or from Italy – just follow the main street until you reach Sta. Maria. When you see the bus station "Posta" turn up left in the direction to Pass Umbrail. Drive approximately one kilometer, then you'll already see the sign which will lead you right to the camping.
Have a nice and save ride!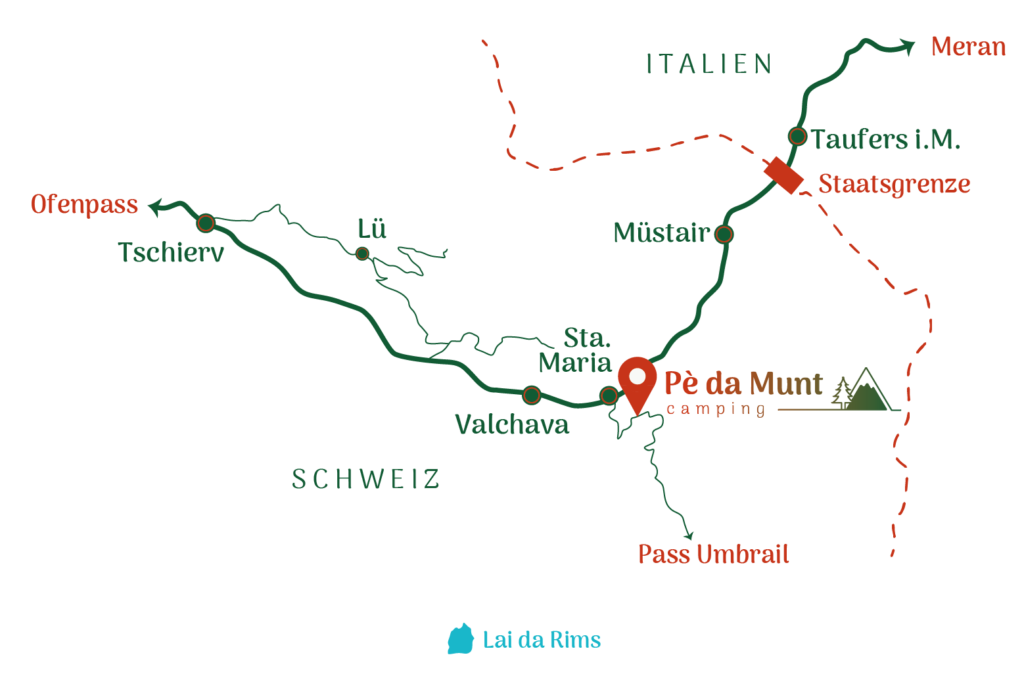 We're looking forward Meeting You
Via Umbrail 165
CH – 7536 Sta. Maria Val Müstair
+41 (0) 81 858 71 33
campingstamaria@bluewin.ch
www.campingstamaria.ch